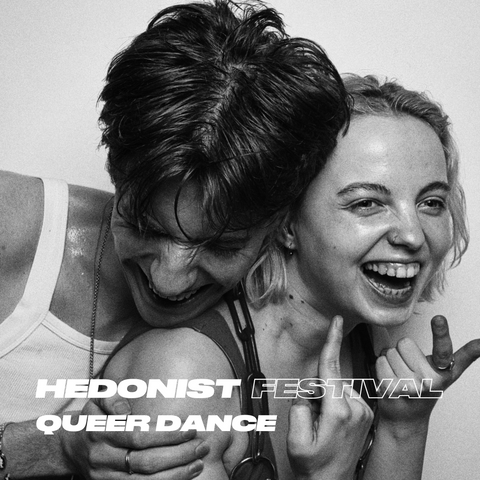 Announcing HEDONIST Festival
STOGGAF x SODOMITE are tingling at every orifice to bring you our very first visual arts, queer dance festival. In the heart of South London, we bring you a day of queerness, dancing, artistry and music. The best part, it'll be f*cking sunny, warm, (we hope) and the nights will be long x
Psychedelic visuals & immersive installations. Idiosyncratic. Carnal. Debauchery. Leave your troubles at the door; stay for an hour or stay for the whole day, either way, join us.
EXPLORE:
1 FADE - Dark, Red, Raunchy, Hedonistic  Room 1 will get darker & darker as the festival progresses, before fading to complete darkness. Just you, music & sweaty queer bodies.
2 - TRIP - Psychedelic, vivid, abstract, flashing, flickering.* When you feel like entering another dimension, you'll enter room two.
3 - CONFESSIONAL - Warm, velvety, hole-y. Like a Halloween Trick or Treat but, just pure treats…
4 - COURTYARD - Chill, smoke, drink, eat, relax. Do summer courtyard-y things.
TICKETS:
Tickets are available here: https://ra.co/events/1701155
The earlier you commit the more you save. Once we sell out we will release re-sale tickets. We also have discount tickets for artists & creatives. Contact hello@stoggaf.co if you need to resell your ticket or are interested in an artist ticket.
ACCESS:
Hedonist will take place in a well connected Zone 2 South London Location. We're keeping the full location under wraps for now. 🤐 The premises are mostly step free, but there are stairs required in order to access room 2.
MUSIC:
Expect queer pop, house, techno, trance. We'll announce more on this soon!
ALBY (he/him) - Previously performed at Riposte, NADA, and Mass Winter Rave, you can enjoy his hypnotic loops, sultry vocals mixed with hard bass lines and dark rhythms.
Clarity (she/her) - Previously performed at Boiler Room, Riposte, RaveSignal and more - a hard, fast, dark and trippy style
Donnie Sunshine - (he/him) Previously Mighty Hoopla, Body Movements, Pxssy palace, cult classics and euphoric vibes
Rebel Bunnie - (he/it/they) Previously house of (S)PUNK, HOR, Riposte, "HighFggTechno" constant energy, forceful kicks marking the step with acid/ebm/groovy elements.
FX1
More to be announced soon.
WEAR:
Dress queer to impress. While you ****can**** wear jeans and a t-shirt, why not push the boat out and wear something daring? Sparkly? Queer? Or maybe something fetishy, rubbery, leathery... Be prepared to sweat…
HELP:
We need the help of our wonderful queer community to ensure this festival is a huge success. We have a number of roles available from coat checkers, to bar staff - click/tap here to apply for a role. Want to help but want to shake your tush? Fill in our survey so we can ensure this event is a huge huge success.
Hedonist - All pleasure seekers welcome.