Queer Events, Parties & Prides we're looking forward to in 2023
Queer Events, Parties & Prides we're looking forward to in 2023
Oh hey, did you come here from searching for UK & Europe Pride dates?
Scroll to the bottom for our calendar of the main UK pride events.
Heyy queer babes 👋
It's that time of year again isn't it? The bleakness of winter is beginning to dissipate - the evenings getting longer, rustling from friends about plans for the next few months ahead beginning to take shape, yay!
Here at team STOGGAF (read it backwards!) we've curated some queer events that we are most excited for over the summer and the coming 10 months. Spanning London, the UK and even a couple abroad we've got you covered with something for everyone!
If you haven't heard of us before, STOGGAF are a queer art collective supporting the work of queer artists. If you're interested in supporting queer artists, tap here to see the work we have from some amazing queer artists.
You can also find a handy list below of the main UK & some Europe prides below that we could find.
If you are a pride or event organiser and wish to have your event added to the table please contact us, and we'll get it added :-)
Parties
Body Movements
Dates: 29th July 2023
Ticket Cost / Accessible Tickets: ~£50, some lower income tickets available
Ticket Link: https://ra.co/events/1566148
Location: Hackney Wick, London
Created by the Founder of Little Gay Brother, The Jodie Harsh Hosted 'Feel It' Party and Milk, Body Movements has pitted itself as one of the UK's first Electronic Music Parties and Festivals.
We adored the 'Winter Edition' lineup in the iconic sell-out Printworks space, with queer electronic music collective such as Adonis, Chapter 10 and Little Gay Brother taking part. The lighting and sound production were top-notch, creating a truly immersive environment that allowed queer movers and shakers to lose themselves in the music and dance.
This summer, Body Movements will take place in Hackney Wick. You can find tickets by heading to Resident Advisor - RA.
Image: DJ Mag 
Riposte
Dates: 24th March 2023
Ticket Cost / Accessible Tickets: ~£18, some lower income tickets available
Location: Electrowerkz, Near Angel
Riposte, began as a French movement almost ten years ago before finding its home in the ever evolving London, which the founders claim still reigns supreme as a one one of the most inclusive capitals of Europe. The events combine a fuck-tonne bonanza of fun and debauchery including playrooms, techno, visual arts, showcases and go on until the early hours. Previously they hosted a party 'entirely in the dark' or hosted breakfast if you made it to 6am! 🍳
One of the most unique aspects of Riposte Queer Art parties which we love 👏 love 👏  love 👏  is their focus on showcasing the work of emerging queer artists. The parties feature installations and performances by up-and-coming artists, giving them a platform to share their work with a wider audience.
Their parties seem wild, and even though we've never been, we can't wait to shake our tush at this mega queer rave in electroworkz. There's a party in Feb, but we'll be heading to the one in March. Should be fun, and we hope to see you there!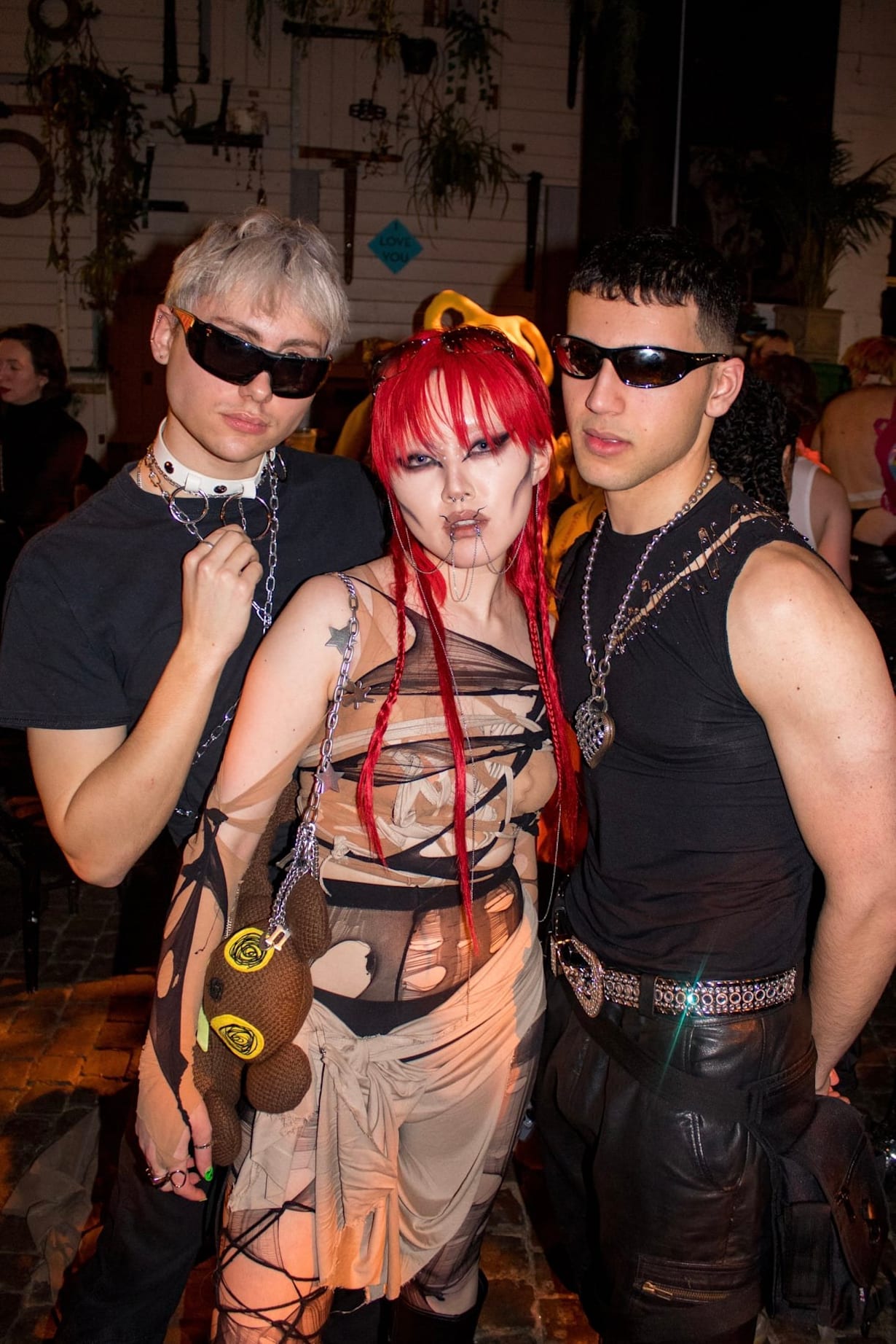 image via Redbull / Riposte 
Fetish Week London
Dates: Friday 7th - 16th July
Ticket Cost / Accessible Tickets? Varies by event but circa ~£30 for the main parties
Ticket Link: https://www.fetishweek.com
Location: Venues across London, usually Fire - Vauxhall, Electrowerkz - Angel & Colour Factory, Hackney Wick
Fetish Week London, or London Fetish Week depending on how you butter your bread, was the backbone of how the STOGGAF collective were formed. FWL is a week long calendar of events that draws in (largely) kinky boys from all over Europe and beyond.
While some attend for the music (think pop cum-techno), the weeklong-event is largely designed to allow you to express your visual identities and fetishes including dedicated nights to rubber wear, leather wear, sports wear and more. The iconic parties usually take place in Fire, but some have previously been held cool spaces such as disused carparks, theatres and more.
London Fetish Week is also known for its educational workshops, which cover a range of topics related to fetish culture and art, such as BDSM techniques, rope bondage, and erotic photography. These workshops are led by experts in the field and provide attendees with the opportunity to learn new skills and explore their interests in a safe and welcoming environment.
image - recon / t101, fetishweek.com
Quench
Dates: 4th March 2023
Ticket Cost / Accessible Tickets? Tickets Sold out
Location: They're as coy about this as we are our next party, TBA, but likely North London
"Welcome to Quench - Creative Spaces, Pole performers, DJs & Playrooms. What more could you want?". Well, we think Quench summed this up beautifully themselves, so what more could you want with us typing it ourselves? Jokes aside! Quench promises to be a new party brought by the hosts of 'Little Black Book' a small team that have previously hosted exclusive sex parties.
Filling a gap created by the controversy left by Kiwi and the Crossbreed events, which were previously hosted on Sundays at Colour Factory, the events promise a whole host of fun. We love how Quench surveyed their audience about everything from the music, to the dress code, and the themes of the play-space filled night. While it's a new party we can't wait to explore it. Tickets sold out in less than 2 days, so we won't see you a this one, but hopefully the next, yeah?
Our own…
Dates: Wait and see
Ticket Cost / Accessible Tickets? You bet your queer tush
Ticket Link: All in good time 😉
Location: Gosh you're nosey aren't you?
Yep that's right, you heard it here first, we're planning on hosting our own party this year. We 100% plan to continue focussing heavily on supporting our visual artists who stole the show at our first exhibition. There will be a heavy emphasis on unique, cool & trippy visuals, and cathartic and sensory play spaces for you to indulge.
Stay tuned for more 📮
Events & Prides
Sodomite Scratch Night
Brought to you by our very own, very fabulous, and very busy Artistic Director Kieran Mason and his Queer Collective Sodomite Arts Company - presents Come As You Are, an LGBTQ+ lead scratch night. Showcasing diverse creatives in a relaxed and supportive setting.
Sodomite is a small LGBTQ+ Arts Company dedicated to showcasing diverse and underrepresented creatives. Previous events include: Killer Queen at Hidden Club Manchester, Queer Fest at Liverpool Arts Bar and a performance at HOMOBLOC for Manchester Warehouse project. Straight from the horses mouth, you can come as you are. No rehearsal needed
Written a monologue but not learnt the lines yet? Have your script in hand! Want to try stand up comedy for the first time? Go on, girl! Not sure you want to perform but fancy watching? Come along, bring your friends! Join us at 33 Oldham Street for a fun and relaxing night of performances.
Image, Canal Street Online
Flesh Festival
Dates: Not yet announced for 2023, but usually around May
Ticket Cost / Accessible Tickets? ~ £120
Ticket Link: https://www.fleshfestival.com
Location: Just north of London, in the Home Counties
Flesh hasn't existed for too long, but was the first queer electronic music camping festival in the UK. Last Years lineup included LSDXOXO, S/HE (Tomboys Don't Cry) & Nadine Noor from Pxssy Palace. While there was controversy last year surrounding slightly overzealous security staff, last years attendees were papped by ASOS for their insatiable fashion sense. So if you fancy ASOS stealing your look while vibeing and smiling in some home county feels you won't want to miss this one.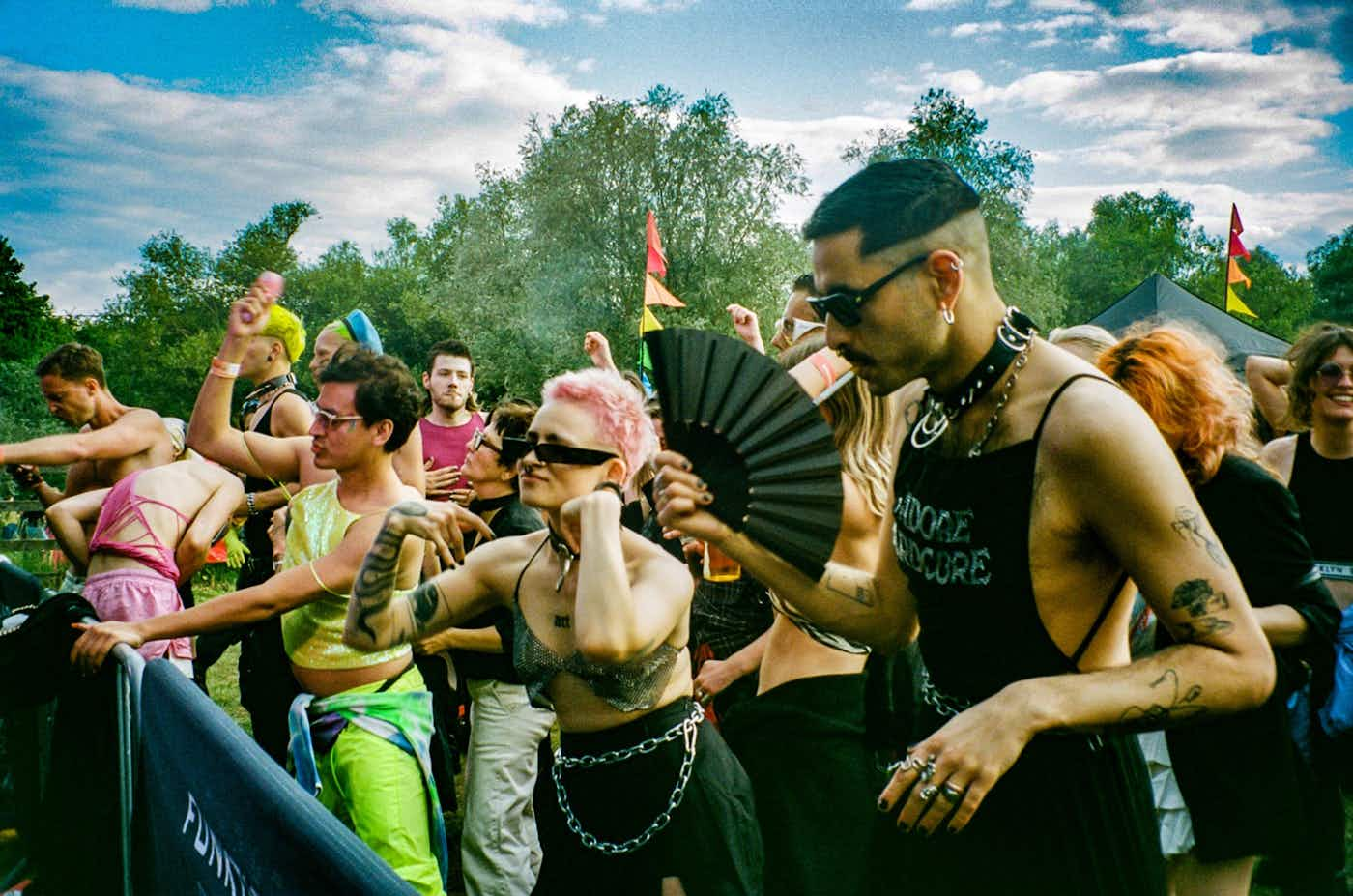 image via The Face
Amsterdam Pride
Dates: 29th July to 6th August, but main party is on the final weekend
Ticket Cost / Accessible Tickets? Pride itself is free but the main 'circuit party' is around £50
Ticket Link: https://pride.amsterdam/en/
Location: We'll give you a clue, it's in the Netherlands xoxo
God damn. Where do we start with Amsterdam Pride. We went last year and had a crazy whirlwind of a blast. Being dragged to an afterparty org… okay wait that story probably isn't appropriate for this blog, seeing the gorgeous dutch queers scantily clad in boats while supportive Dutch grandmothers waved pride flags in what was one of the sunniest days in August. It was fun. And sunburnt. BRING SUNCREAM, QUEERS! Oh and condoms, magnesium for jawlock, melatonin - cause we know you ain't gonna be sleeping and your party vibes 😉
The main party event is a large circuit party that takes place just outside of the centre - Amsterdam Centraal. Easily accessible by Tram, or a lovely afterglow walk home, depending on your perspective. Other events during Amsterdam Pride include concerts, parties, cultural events, and sports tournaments. We also enjoyed the Drag Queen Olympics.
Mighty Hoopla
NME described Mighty Hoopla as 'glittery pop fund and queer brilliance' we'd be inclined to agree. Taking place in Brixton - but not on a bank holiday weekend this year #criesingay this years lineup promises to provide you with a milkshake that will have 1,000 shirtless boys in your yard - well entrance foyer, skint queers don't have gardens in London, as well as the ability to shake some dance moves from the likes of Steps.
Mighty Hoopla was founded in 2016 as a response to the growing popularity of pop music and the lack of festivals that catered specifically to this genre. The festival has quickly gained a reputation as one of the most vibrant and colorful events on the UK music festival calendar, attracting a diverse and enthusiastic crowd of music fans.
https://www.nme.com/wp-content/uploads/2021/09/Mighty-Hoopla-2021-by-Luke-Dyson-IMG_0410-1-696x442.jpg
Calendar of UK & Europe Prides
Just FYI, the images we have utilised here have been taken directly from publications relating to the events we're discussing, and are in no way intended to breach copyright. We have tried to credit where possible. If you would like an image removed, please contact us using the contact details on the site.