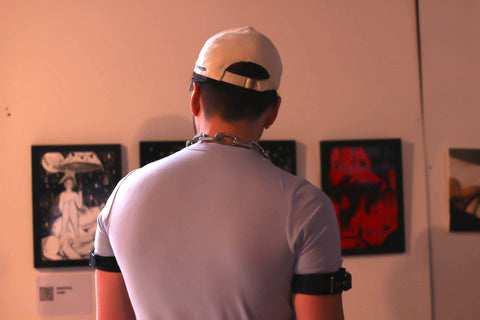 Join us for our second queer visual art exhibition: QUEER HEDONISM - 30th of September
Last summer, the STOGGAF queer art collective was born. Fast forward to November, over 300 amazing people came to the sultry, disused railway arches of Arch 555 in Brixton to be engrossed by queer art from four of our distinct collections. 
You took in art from the likes of Keefer Berlin, an award winning illustrator, Martha Hine with ethereal femme queer depictions and Felix Chesher, a provocative portrait painter and many amazing others. 
On Saturday September the 30th, we are returning to Brixton to celebrate work from over ten artists and to witness their depictions and reflections on Queer Hedonism. 
Expect, original visual art pieces, print, illustration and immersive digital work including film and animation. 
You will find emerging artists as well as artists that have studied internationally regarded schools such as the RCA, and artists that have been featured among some of the most acclaimed collections such as the Tom of Finland Foundation, and much much more. 
The full artist exhibition list is to be published shortly. 
This exhibition is curated by RCA alum, Elinor Henry - whose work draws on intersectional queer feminist eco-philosophies, biology, and psychogeographic research. The experience of queerness, body politics, trauma, and recovery runs through her practice. 
About the venue
Bureau of Silly Ideas is a multifunction industrial space in the heart of Brixton. Under an expansive disused railway arches, just a 5 minute walk from Brixton Rail and underground stations this space is the perfect harkening to the emergence and popularisation of queer underground culture. 
Directions: Here
What3words: allow.ports.future
Video if you get really stuck: Here
Note, tickets are non-refundable / transferable for this event.