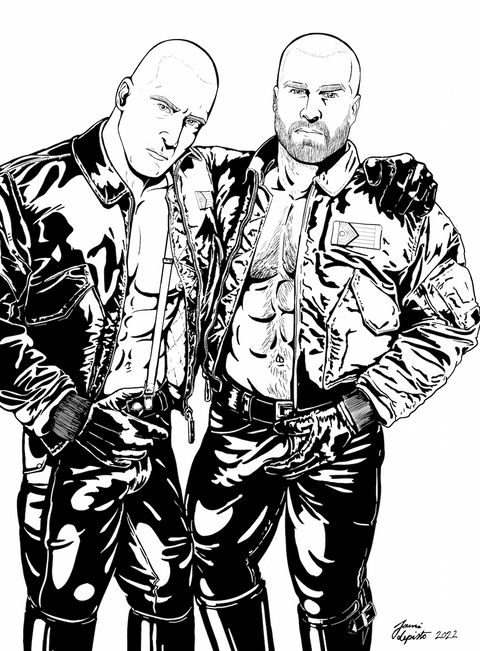 Decorating a Gay Sex Dungeon: Artwork
How to choose artwork for your Gay Sex Dungeon
The recent Netflix show wowed and showed us all that a sex dungeon doesn't just have to be a drab boring room with black walls and a sling in a corner. It can be a sensual oasis and abode for heightened pleasure. 
Now enter the gay sex dungeon. Let's be honest, some of us gay & queer men are more au fait with this concept than our straight counterparts. We may have been a bit niche and visited somewhere like the gorgeous Facility X in London's Marylebone - or just spent a bit of time in a dark room at Fire in Vauxhall or the raunchy Eagle in NYC. (Don't get me started on some of Europe's amazing leather bars and dungeons that you also MUST visit)… 
But, let's be honest - if you're putting a sex dungeon in your home there's room and space for some fantastic gay artwork pieces to get your pleasure nodes heightened and your mouth drooling. Also a great way to impress any subs before you pull a hood over their eyes. 
So that begs the question, what artwork should you go for to decorate your gay sex dungeon? 
First, choose the theme
If you're going for a dungeon room laden with shackles, chains and a sling then something like this gorgeous piece by Keefer Berlin 'Bounded & Milked' will help to set the tone. That dark but vibrant pink colour is perfect for a dungeon or darkroom that says "I'm going to have a dark raunchy sex room, but my sex life is as colourful as the art I place on the walls" - it contrasts black walls beautifully. Believe me, we've tested it ;-)
Maybe the theme of your room is around anal pleasure instead. Butts, fisting, rimming, and the sight of gorgeous rear man meet. Something like these pieces, additionally by the incredibly talented Keefer Berlin will create the perfect look for your dungeon or sex room. The strength of the colours and palettes used will create a gorgeous contrast from dark walls. 
Once you've chosen the theme you'll want to,
Choose art pieces representing your kinks and fetishes
Do you love the feel of the leather clutching onto your skin as you slide on your Wesco or Sendra boots? Or love nothing more than getting down and dirty while donning your Daniese leathers? A piece like this showcasing the staunch masculinity with Tom of Finland Esque models by the Finnish himself Jouni Lepistö will in that case look fantastic on your walls. Choose from either a classic black and white look in his artwork or opt for a vibrant version. 
Either will fill the space between your ball gag and sleep sac holders on your wall perfectly. 
Perhaps leather is less your thing and you more have a hankering for fully clad rubber boys. Something like this by the Dutch artist Unforced Error will show the world (or, anyone not wearing a hood while you get down to it in your sex room) just how strong your affinity for rubber is.
Similarly, you may wish to opt for photographed pieces as opposed to illustrations. This piece captured by MATT, a South West England based queer artist and photographer is quickly becoming a classic in kinky gay households. Being a headless shot it leaves a lot to the imagination while inviting rubbery raunch, submission, with that mightily thick chain and hopefully a raging hard on that will lead to one of the kinkiest sessions of your sex dungeon life. 
Perhaps you love the concept of a sex dungeon, but really aren't all that keen on leather or rubber (boring x) what you really need is abstract gay work that shows which team you bat for, but in an understated way. In which case…
Go abstract…
Going abstract is great. It creates a degree of mysticism and invites exploration and imagination to your sex life. While such work isn't explicitly sexual in nature, or sometimes even gay, it invites and provokes the imagination, like a palette cleanser and invites you to breath life and imagination into your sleaziest and kinkiest desires. 
Again the award winning Dutch artist Unforced Error comes up trumps here with his 'am I dreaming' piece. Yeah, we're dreaming - dreaming about guys. 
Finally… Make a play on words.
Sometimes a dungeon is a picture in its on right. Toys and 'equipment' spread about the place, a St Andrews Cross, a spreader bar, sleep 'sacs' and other 'machinery' that really art eliciting the same thing, isn't, strictly, necessary. 
But, still - we've learned that a sex room with just plain black walls is a boring sex room. In which case, go for a piece from Stoggaf's 'Gays The Word Collection'. This 'Gaywatch' piece will set the tone of exactly who and what you're looking for in your abode. 
Wrap up
Hopefully you have been left in awe, inspired and perpetually horny now that you have been faced with copious and bags of choice on how to decorate your new sex dungeon. Stoggaf is a new Gay, Queer & Fetish art site set up by the London queer community designed to support queer artists and make queer art more accessible for all that appreciate it. Check our our pieces to see how you can fill your home with gorgeous queer and fetish art!