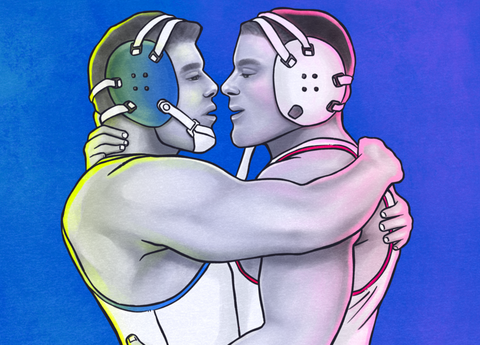 Announcing or first art pop-up in Brixton!
Say hello to 'Love Yourself' our new Queer Art Exhibition 🏳️‍🌈
Taking Place in Brixton in November. 
Award winning gay and queer visual artists from London, the West Country, across Europe and Asia are coming to the amazing exhibition space - The Bureau of Silly Ideas in Brixton!
stoggaf.co - The home of gay, queer and fetish art is excited to bring you our first London Pop Up event showcasing queer artists from across the UK, Europe and the world.
Enter an ethereal queer art showcase, with soft beats by an amazing queer DJ accompanying you on a journey of discovery as you enjoy pieces from four of our collections - Abstract Amsterdam, Illustrated, K¡nk & Cool Queer.
Our Artistic Director, Kieran describes the "Love Yourself" exhibition below:
Often in the Queer community our sense of being and existence is shamed by feelings of rejection, self-loathing and negativity. From outside sources and the manifestation internally that results.
Fu*k that! The first step to loving others is to love and be true to yourself. This exhibition is all about rejecting the rejection, the self loathing, and celebrating what makes us special, unique and queer.
Through this you will be able to explore pieces from four of our collections: ,
Cool Queer - Fierce, Proud & Loud. Pieces that are on 🔥 exuding queerness from all angles. Many of the works in this collection stem from Manchester based queer photographer and visual artist - Corey Mullaney and Liverpool based Severus Heyn, a queer artist and performer, and cofounder of Queer Art Brunch Club and The House of Moustache.
K¡nk - Celebrate your innate deviance. Artists from across Europe have contributed to this raunchy and liberating collection. Masculine illustrations from Finnish leather artist Jouni Lepistö are complimented with beautifully framed and mysterious works exploring fetish themes from Matthew Dennis - Devon, and Unforced Error - Amsterdam.
You will certainly discover something that causes a reaction, inside or out with this fantastic collection.
Illustrated - Queerness should be a fairytale come true. In this case, these homoerotic fairytales are deeply evocative and erotic. Multi-award winning Artist Keefer Berlin, has contributed to some incredibly moving, raunchy and fanciful illustrations, which us queer folk should be able to realise should we wish.
Abstract Amsterdam - Queerness need not always be direct, nor clear. But it should still speak a queer truth. Pieces from Dutch Artist Unforced Error will punctuate your senses and evoke an ethereal response as you explore these fantastic pieces.
Feel free to bring a beer or two into the exhibition as you navigate this exquisite space under the Victorian brickwork of the Brixton archways. Expect some surprises on the day including a 'living art' showcase, plus a keynote to talk you through some of the pieces on display.
We look forward to welcoming you to the Stoggaf Pop Up.